Before the long weekend, I brought a few things into my booth at the antique mall, and then wandered around with my camera and did some "virtual shopping".

The matte white pottery is from my booth- I never pass up a piece of Haeger or McCoy Floraline if its under $5.

I found the starfish at an estate sale and was fascinated by it.  I'm also kind of intrigued by the way shells spiral.  I think there is a formula or pattern for how they get larger, but I'll save the discussion of that for my "Math Topics I Love" blog.
True confessions: My degree is in Math, and I really do think the math of some of these patterns in nature is really cool, but not enough to blog about it.  Geez, I sound like Dr Spencer Reid from Criminal Minds.
 
I love vintage Madonna figurines and statues, too.  This one has been at my booth forever- I guess not everyone likes them as much as I do- but that's ok- I like the idea that she's watching over me.

Italian tole candlestick and box, early 1900's picture frame, 1890's wedding picture, cheap gold color plastic mirror with bows on it.

Moving on to other booths- just can't have too many pieces of white dinnerware and or too chippy a statue.

Here's a little Americana display peeking out from a table in Trish Headley's booth- love the faded and worn little boy's red hat.

More cool from Trish.

Great "sea stuff" in Gwen & Teri's French by Design booth. 

Check out the strips of paper and paper flowers peeking out from the shells in the urns- what a great (and easy) idea. 
French by Design has a Facebook page.  Check it out- great pictures of their displays at Marburger and from the South of France.
Bottoms Up,  an antique show I sell at, also has a Facebook page.  Check it out for some pictures of great old stuff.
One last thing for you to "check out"- my friend Lisa of Tarnished and Tattered is issuing a creative challenge- altering a Pure & Natural Soap Box.  I've got my box, and I've got my idea- we'd love it if you'd play along.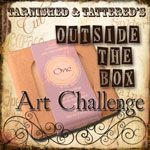 What would YOU do with this soap box?